Tour de Georgia Trophy by Fraebel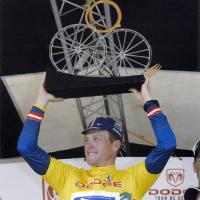 The Trophy fit for a Champion...

The winner of the Tour de Georgia presented by AT&T receives international media attention, rousing applause from cycling fans, the overall leaders award jersey and prize money. But what makes the top step of the awards podium so very special after 600 grueling miles of racing, is that the winner of America's premier professional cycling stage race is presented a unique creation from the world-famous Fräbel Studio - the Tour de Georgia Trophy.

Hans-Godo Fräbel is renowned for his sculptural flamework. His approach combines the vision and sensitivity of the artist with the discipline and skill of the industrial glass blower (who softens boron glass with an intensely hot, oxygen-fed gas torch). Both the intimacy with the material and the extended work time afforded by this method are unique among hot-worked media and make possible not only the remarkable fluidity and spirit of the work of this studio, but also, along with the superb physical properties of boron glass, the usually flawless restoration of damaged sculptures.

The Fräbel Studio creates many unique awards and corporate gifts for companies such as Coca Cola, IBM and Cisco. The art work of the Frabel Studio can be found in over 15 museums worldwide and is in the hands of famous world leaders and performers such as Jimmy Carter, Queen Elizabeth II, Elton John, Morgan Freeman and Sting.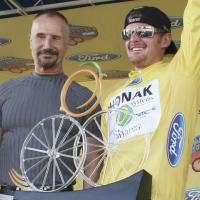 Creating the Tour de Georgia trophy is a unique task which is done by two of Fräbel's great artists: Fräbel, the founder of the studio, and Tung Bui. The process begins with clear boron glass rods, which are heated up to 2,500 degrees in an open flame. When the glass reaches a red hot cherry stage, it is ready to be sculpted into its desired shape using a combination of gravity and carbon tools.

The color accents on the Tour de Georgia trophy are applied by melting color glass on top of the clear boron glass. After the sculpture is finished, it is put through an annealing oven, which, by heating and cooling, takes the stress out of the sculpture and prevents fracturing of the glass. The end product of all this work is the exquisite Tour de Georgia trophy.

The Fräbel Studio is one of the more interesting attractions in Atlanta. Visitors can expect to see nine highly skilled artists (usually including Hans-Godo Fräbel) turning hot glass into beautiful sculptures. The Fräbel Studio is open to the public and offers free tours, Monday through Friday, 9 a.m. to 2 p.m. There is also a gallery in Buckhead.

For more information on Fräbel, visit their website: www.frabel.com