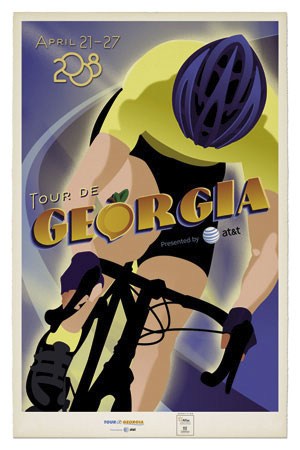 ATLANTA, Ga. (March 25, 2008) - A commemorative print honoring the 2008 Tour de Georgia presented by AT&T (April 21-27) was created by a local Atlanta artist, Thomas Burns. This cycling-themed art, available as both limited-edition prints and posters was available in the Health & Wellness Expo at each stage of the Tour and some copies may still be available directly from the artist.
Burns, an Atlanta-based graphic designer, created his artistic tribute poster to reflect the classic cycling prints of the early 20th century. The 2008 Tour poster features a cyclist wearing the yellow jersey of the race leader, depicting a determined figure speeding towards victory. This vintage poster evokes the mystique of the yellow jersey in a dynamic and vibrant work of art.
"I have a passion for cycling, and a background in graphic design. I wanted to use both to create a work of art reminiscent of the early 20th century cycling prints and to promote one of the premier cycling events in the country," said Burns, who also produced the commemorative poster for 2007 Tour de Georgia.
There will be a small number of larger prints (20' x30') produced for the Tour. Burns will sign and number 100 limited-edition prints, which will be available on both the Tour's website as well as Burns' web site, www.AtlantaVintageTravel.com. A portion of the proceeds of sales during the race went to the event beneficiary, Aflac Cancer Center and Blood Disorders Service of Children's Healthcare of Atlanta.
The Tour de Georgia posters will be giclee prints, which provide better color accuracy than other means of reproduction. The quality of the giclee print rivals traditional silver-halide and gelatin printing processes and is commonly found in museums, art galleries, and photographic galleries.