Overview: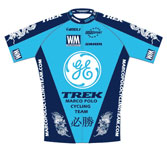 Country: China

Team Website: www.marcopolocyclingteam.com

2008 Roster: 15 riders

Bike Used: Trek new Madone, team issued



GE-MARCO POLO CYCLING TEAM Presented by TREK:

The GE- Marco Polo Cycling Team presented by Trek focuses on the development of talented Chinese riders, and while they focus primarily on the UCI Asia Tour, they look forward to racing in other parts of the world as well. The team's philosophy is to mix inexperienced Asian riders with seasoned western riders in a professional environment, so that they may develop quickly and eventually perform at the Pro Tour level. At the Tour de Georgia they will look to fast finishers Kudentsov and Van Bon, as well as climber Jai Crawford, to capitalize on opportunities. Also watch out for all around talents Fuyu Li and Rhys Pollock in the breakaways.

After posting successful years and numerous victories, the team became the Asian 'satellite team' to the Discovery Channel Pro Tour team in 2007. This season the team is proudly supported by Trek and GE and will focus on the Beijing Olympics, as Fuyu Li will most likely represent his home country in the road race.

Bike sponsor Trek, one of the world's top brands in bicycles, is very committed to furthering the sport of cycling in China.



2008 highlights:

Wore Yellow Jersey in the Tour of Malaysia, top 3 stage finish in the Tour de Langkawi, Top 5 individual in the UCI Asia Tour rankings



2007 highlights:

As the Discovery Channel Marco Polo Team they had multiple top ten results in Asian and European top-level races– succeeding in the development of young Chinese talents



2008 Tour de Georgia Roster:
Leon Van Bon

Jai Crawford

Sergey Koudentsov

Fuyu Li

Yilin Liu

Loh Sea Keong

Rhys Pollock

Xing

Adventures with the GE Marco Polo Presented by Trek cycling team...
April 27th, 2008 - Great racing by Rhys in last stage
Rhys Pollock showed once again that he was one of the strongest riders in the last stage of the Tour de Georgia. Going after the final ranking for the most aggressive rider of the Tour de Georgia p/b AT&T, Rhys attacked after just 2 kilometres and did get in the breakaway of the day. In the rain, hardly any of the other breakaway riders could follow Rhys in the corners of the slippery downtown Atlanta circuit, where Rhys did have a big advantage with his Vredestein Fortezza tires. Team High Road managed to keep things under control though and the stage did finish in a sprint win for Henderson. Leon van Bon tried his luck at the finish, still feeling good after 7 days days of racing, but he did get locked in and finished 26th.
The Tour de Georgia p/b AT&T was a great experience for the team and has certainly given the riders a boost, which will lead to great successes in races to come.
Thank you, GE and Tour de Georgia p/b AT&T, we were proud to be part of this great race!!!
April 26th, 2008 - Good result for Jai on Brasstown Bald
The famous Brasstown Bald climb did not completely bring Jai Crawford what he was hoping for. A 14th place in a field like the Tour de Georgia p/b AT&T is a very good result, though. Jai could not follow the acceleration of the Astana team when Rubiera, Colom and Leipheimer responded to an attack of Bobby Julich, with about 6 kilometers to go. He landed in a small group with the likes of Julich, Rubiera, Mizurov and Hincapie. On the last kilometer (around 20% average), he stayed with the best of this group and managed to finish between the big names in this race. Liu Yilin did good as well, his 56th place in the stage brought him to a 7th place in the young riders' classification. Tomorrow the final criterium, with possibly chances for Leon, Rhys and Fuyu to show themselves again…
April 25th, 2008 - Jai Loses Time
After the mechanical problem in the TTT, more bad luck today… Jai punctured in the finale of stage 5. It was only the second puncture the team did have in the whole race; but at a crucial moment, with just around 7 kms to go to the finish. Rhys and later the other guys too waited in an attempt to keep the losses limited, but still they lost 1 minute 20 to a peloton that blew apart in the last kilometers of the race. Nothing to do, the chances on a top ten GC result have become very small now, but Jai will even be more eager to show he can climb with the best on the big Brasstown Bald climb tomorrow…
April 24th, 2008 - Mechanical problem ruins TTT
Everybody around the Tour de Georgia p/b AT&T expected the GE – Marco Polo team dead last in the TTT. No famous names – no TT specialists, just a small team from China. The guys were extra-sharp and wanted to show – again, just like the previous days – that this team does belong in this race! After a few laps, the team was on solid course for a spot around the 12th spot, maybe even just a top 10, with a strong finish. Leon arranged a smooth tempo, with all his experience, and it looked like the team could even go faster when he would give the sign to go flat out. Then bad luck stroke… Fuyu's rear derailleur snapped, he had to get another bike and one of the motors of the team was gone; Loh waited to make sure Fuyu would be in on time and with 2 guys less, there was no way the team could still be competitive. A last place was the result, but… just 2 seconds behind the second last team and with limited loss to the top-teams even. Jai is still in contention for a top 10 GC result, if he can do a great ride up Brasstown Bald in 2 days.
April 22nd, 2008
The GE – Marco Polo Team p/b Trek did have a great stage 2 in the Tour de Georgia p/b AT&T, putting 3 of its riders in top 12 GC and Rhys Pollock on the podium, as the most aggressive rider. During the beginning of the stage several GE-Marco Polo riders were seen attacking, with a very active Fuyu. The first GE-Marco Polo rider to really get away was Loh Sea Keong when he went for an impressive solo escape, 5 kilometers before the first intermediate sprint of the day. Although he was caught on the line, he still crossed it as 3rd, bringing him a bonification. Rhys was then in the long break of the day, that stayed out over 60 kilometres. When there were attempts to cross, Leon van Bon was very active, trying to get towards the break as well. Within the last ten kilometers the three men were caught, however and another field sprint was coming up. Sergey did not manage a top 5 result like yesterday, the finish was just a bit too hard, with a climb in the final circuits. Sergey did get a 14th this time and Leon was 24th.
As Rhys and Loh did get bonifications during the stage and because of Sergey's good placings, they are 10th, 11th and 12th GC now.
On top of that Rhys was given the most aggressive rider jersey of the day and could thus show the GE-logo on the podium. His election could also be seen as a reward for the aggressive riding of the whole team!! The guys will do everything to keep showing their face in the next few days!!
April 22nd, 2008 - Jai Crawford
The Tour of Georgia presented by AT&T is going to be difficult, even though I felt good today and the fast guys on the team got Sergey to a top 5 result today. For me the Tour will be about proving my climbing power, so I will have to wait until my big days are coming up. We have done some reconnaissance training of stage 6 to Brasstown Bald and whilst there is a lot of racing to be done before that stage, its going to be an important stage. The climbs are tough and the the mountain top finish will have legs screaming. The stage will suit my climbing ability, but I need to arrive there with good legs and keep myself in contention on the preceding stages. The latter may prove the most difficult task given that a large breakaway can often be let go in these races. I will be doing my level best to follow all I can and if that break goes up the road, make sure I'm in it. Alternatively, one of the bigger team may choose to keep the race together so their GC riders can do their thing on the Brasstown Bald stage. Its this race scenario that would suit me best but I need to be ready for anything.
The United States have treated us pretty nicely so far and all going well, we can continue that trend. The opportunity is before us, its there to be taken. I'm feeling ready, I have prepared well and my motivation to succeed is high. The Tour of Georgia contains a host of riders whom are supremely credentialed and the opportunity to fail in my pursuit of a high GC placing is present on every stage. The opportunity to excel also exits and its images of success that occupy my mind leading into the race. Every rider has two wheels and legs to power them, a name means nothing. Past results don't pave an easily travelled path, the roads that lie before us roll the same for every rider. Good riders can be respected but no one should be intimidated by them and this is the mentality I hope all the riders on GE-Marco Polo presented by Trek will carry with them in the race.
Cheers, Jai
April 21st, 2008 - Francis
Hello, it's me, Francis. I'm here in the Tour de Georgia as a soigneur and of course photographer. We are sitting here in a hotel right on the beach, the weather is nice and everything is organized very well. Today I followed the guys with the training and they are all in a good mood and show big motivation to go for it from tomorrow on. This will be the first stage, which just starts around the corner from the hotel and it won't be a long stage with a 113 km. It will be sunny again with 25 degrees, but there will also be hard wind, which could bring a decision. Many big teams are participating in the Tour of Georgia, just like High Road, Astana, Gerolsteiner, CSC and so on. Our guys will be riding in between some real big names, but in their kits of the GE - Marco Polo Cycling Team and their great looking Trek bikes they will fit in just perfectly.
We are all looking forward to tomorrow and we hope to have some good results!
Greetings, Francis
April 21st, 2008 - Gudo Kramer
Great start for GE – Marco Polo Team; Sergey Kudentsov up in the sprint!
In an exciting sprint finish, the GE – Marco Polo Team managed to keep up with the big teams. Rhys Pollock and Leon van Bon dropped Sergey Kudentsov in a fantastic position with 300 meters to go. In the technical finish of the stage, Sergey did get boxed in a bit and could not match winner Dominguez' final jump. A top 5 result is a great start for a small team, though. And… it will give the guys a lot of confidence for the next stages!! Liu Yilin, one of the Chinese riders jumped across to one of the first breaks of the race and was very happy with that, he will try moves like that again in the following stages.
Gudo
April 20th, 2008 - Michael Carter
After two races last weekend in the Greenville area (1st, 2nd, 4th on Sunday, 2nd, 9th, 10th Saturday) and a week of touring the sites (GE's gas and wind turbine manufacturing plant - which was amazing!) and the CNN studio's as well as public relation's events for GE, we have arrived here at Tybee Island for the first of the Tour De Georgia's festivities. The weather has definitely warmed up from last Sunday's Walnut Grove race where the start was a balmy 39 degrees, and the guys are enjoying this slice of Americana. Only Rhys and Fuyu have been to the States before so for the rest, it is truly a novelty, especially the food. Cycling at this level gives the riders and staff a chance to travel the world and experience the different foods and different mentalities that make up a culture and here in the States, the South is most definitely unique, even for me! Colorado is quite a bit different than Atlanta, and you can imagine how different Georgia is for someone who comes from Russia (Sergey) or Malaysia (Loh) or China (XYD and Lou)!
I have acted as "D.S." (Directeur Sportif) for the Marco Polo squad for two years now. I enjoy it very much and love the opportunity to be able to stay in the atmosphere generated from this level of cycling. I admit that I miss the feeling of being a rider and the anticipation of the events - the build up to the start was and always is great, if even a little stressful.
The added build up to this race, the 2008 Tour De Georgia is due to the fantastic support that Todd McKean, General Manager of Trek China has provided the team. Todd knows exactly what a team needs to be able to compete with the top teams in the world and he has provided the team with everything the riders could possibly need - from their bikes, to their clothing, the invitation to the Tour De Georgia itself as well as making sure that there are enough vehicles - Todd organized a camper van for the guys too,which is awesome! When a team is competing at this level, more attention to the details is needed and Todd understands that completely. The Marco Polo Cycling team, make that: The "GE Marco Polo Cycling Team Presented By Trek," is very fortunate to have Todd McKean!
Now to my expectations for the riders in the race. With a stage like Brasstown Bald, it is seemingly obvious that the race will most likely come down to that stage - normally one would think that. But as our mechanic from Holland Henk states so eloquently, "There is no normal in cycling." A break could easily gain 30 minutes in a stage (remember last year here?) and that the race becomes a race between the breakaway riders. So with that, we need to have everyone be on the alert for such a beak. No one can just "float" and wait for a particular stage. Our climber and potential G.C. leader Jai Crawford will no doubt be our best up Brasstown Bald. He will have excellent support in the experience of Leon Van Bon, a two time stage winner in the Tour De France and Rys Pollock who has returned to Marco Polo after two years on different European based teams. We also have Fuyu Li who has shown that he can also be "in the hunt" for a stage win or even a solid G.C. result. For the field sprints, we have Sergey, our "Russian Bear" who will be giving J.J. Haedo a run for sure. Our two other Chinese riders, Xing Yang Dong (we call him "XYD") and Liu Yilin (we call him "Lou") will have the liberty to slip into the break-away's and go for stages. Loh, our Malaysian rider has been racing a lot already this season and with his conditioning and his experience at this level (he was in two significant breaks in the Tour De Langkawi earlier this year) he too will be good for escaping in breaks.
So we have Jai for Brasstown Bald, Sergey for the field sprints, Leon as captain, Fuyu as a danger to G.C., and the others for support and break-away free lancer's (so to speak). The race will be exciting with a serving up of all the drama of any world class race. The intrigue comes because of course, there is no "normal" in bike racing. The GE Marco Polo Team Presented By Trek stands to make a big impact in this 2008 edition of the Tour De Georgia. Stay tuned!
April 18th, 2008 - Rhys
Hi all,
After arriving late on Thursday night into Atlanta, we headed the next day up to Greenville S.C. We were lucky enough to able to do two nice races around the area which was a nice warm up for the Tour De Georgia. Unfortunately the good weather wasn't on show and it was cold and stormy. After a short delay to let a lighting storm pass we took of for a 100km race. In the final it split to three of us and in the finish I just went a bit early in the sprint and was 3rd! A bit angry with myself but it happens sometimes. The next day was a hilly course in Spartensburg,130km up and down and it suited Jai right down to the ground. He did a sensational ride to ride solo for about 45km, and hold of the peloton and take the win. I was able to get away from the bunch in the last 10km to finish 2ND and Sergei took out the bunch sprint for 4th. It was a really great team effort with everybody doing there part at some point. Its great to see everybody putting in a great team effort.
The next few days where spent being taken around by the great team at GE. We had a quick tour of Greenville, which was a lovely little town with a waterfall right in the centre of town. We then had a great dinner down town. On the Monday we did a tour of the GE plant at Greenville which included seeing where the $30 million gas power turbines are made. To say it was amazing to see these things being produced from scratch is an understatement. They are absolutely huge and every piece beautifully made, not only functional but almost a work of art. We then did some signing in the canteen and spoke to some interested workers...
We then headed to Atlanta and the following day we went to the GE head office and did more meeting and greeting. It was nice to see the cycling fans out there and some interested new cycling fans. The company is also running a volunteer program on the final stage in Atlanta with the staff getting behind the event which is great to see... The final engagement before the race was a tour of a Children's Hospital and Cancer ward. It was touching and the kids we met seem to be really happy to meet people that might be on TV (I think this was more exciting than anything else!. The hospital itself was amazing and all built on donations was a non profit organisation. We then did a tour of the CNN building and had some great Chinese food for dinner with some great people from GE. It was nice to chat with them about different things that they where into over here and also cycling. They seem pretty passionate about the company and I think they will now be transformed cycling fans watching "their" team in the Tour De Georgia. We have one final engagement after the tour so it will be nice to get there perspective of the race when we meet them again in Atlanta...
Cheers, Rhys
April 17th, 2008
While his team mates were checking out the Brasstown Bald climb and other Tour de Georgia courses, Fuyu Li represented China in the Asian Championships in Japan. After a savage race, only 20 Asian top-riders managed to reach the finish within the time cut. Fuyu got trapped in Japanese and Uzbekistan team play (3 Japanes and 2 Uzbekistan riders in the eight men front group…) and did just miss a medal as he was beaten in the final sprint to the line by fast Miyazawa of Japan. Fumiyuki Beppu (SKil-Shimano; former team mate of Fuyu with Discovery Channel Pro Cycling Team) won the gold medal, ahead of Temur Mukhamedov.
The 20 finishers:
Elite Men




1 Fumiyuki Beppu (Japan)                     3.50.41 (39.4 km/h)
2 Temur Mukhamedov (Uzbekistan)                     
3 Takashi Miyazawa (Japan)                      0.13
4 Fuyu Li (People's Republic of China)              
5 Konstantin Volik (Uzbekistan)                 0.18
6 Mehdi Sohrabi (Islamic Republic of Iran)      0.20
7 Taiji Nishitani (Japan)                       0.29
8 Roman Zhiyentayev (Kazakhstan)                0.40
9 Ying Hon Yeung (Hong Kong, China)             2.41
10 Yukiya Arashiro (Japan)                      2.42
11 Muratjan Khalmuratov (Uzbekistan)            2.44
12 Ghadar Mizbani (Islamic Republic of Iran)    2.50
13 Wang Yip Tang (Hong Kong, China)             2.57
14 Hossein Askari (Islamic Republic of Iran)        
15 Purevsuren Khuyagt (Mongolia)                6.24
16 Alexey Kolessov (Kazakhstan)                 6.42
17 Kam Po Wong (Hong Kong, China)               7.00
18 Sergey Kuzin (Kazakhstan)                   10.16
19 Kin San Wu (Hong Kong, China)                    
20 Hassan Maleki (Islamic Republic of Iran)    12.28

Sunday, April 13, 2008 - Walnut Grove Road Race, 82.5 miles - 132 K.
1 - 2 -3 finish for Marco Polo Team! - Watch Video
A perfectly timed move by Jai at approximately the 100K mark put Jai off the front solo which he held without any difficulties. The move came after Xing Yan Dong attacked with two others on lap one (3 laps of 27.5 miles, 44K) about 15 miles or 24 K into it. Bissel, Jelly Belly, Rite Aid and two others chased and caught Xing Yan Dong and his companions at the 75 K mark. Then counter attacks by Rhys, Mike, and Sergey started. It was not until the field hit the biggest climb of the day (only about 1 K, and maybe 5%) that Jai made his moved. Then Sergey, Rhys and Mike covered every other attempt to bridge to Jai. When Jai had built a solid lead of about 3 minutes and with about 12 K to go, Rhys attacked with one other whom he dropped. The field came in about 1 minute behind Rhys and 2 minutes behind Jai with Sergey taking the field sprint and 4th.
Morale is super!
Michael Crawford
April 12th, 2008 - Greenville, SC Pro Race
Rhys Pollock has celebrated his return to the Marco Polo Team with a podium placing in the Greenville race in the USA. Rhys became 3rd behind two local USA riders, in the pouring rain. It was Rhys' first race with the team in 2008, after leaving the Marco Polo squad after the 2006 season. All other guys also managed to finish this preparation race to the Tour de Georgia p/b AT&T where the team will wear proudly wear the GE logo!
A remarkable result for team director (and very fit former top-professional!) Michael Carter, who managed a top ten result with a 9th place. Sergey Kudentsov rounded up the top ten. The guys arrived one day before, in the middle of the night, so were struggling not only with the weather conditions, but also with the jet lag.
RESULTS:
1. Michael Stoop TIME
2. Edward King BISSELL
3. Rhys Pollock MARCO POLO
9. Michael Carter
10. Sergey Kudentsov MARCO POLO
13. Xing Yan Dong MARCO POLO
20. Liu Yilin MARCO POLO
24. Jai Crawford MARCO POLO
April 12th, 2008 - Leon van Bon
Racing in the USA has always been nice for me. A long time ago I competed in The Dupont Tour. At that time the biggest race in the US. The atmosphere, the hotels and the way of racing found a place in my heart. And of course, winning those 2 stages in the Dupont Tour remains a great memory. Me as a young guy, racing in the land of opportunities felt like holiday, but the race level was high. Later I joined the Mercury / Viatel team. It was a shame the team had to quit by bad management but I enjoyed being a part of an American team. We did some nice US-races that year as well. I remember a crit just a block away from the white house. Isn't that cool or what! And then winning over there....
So I'm looking forward to race in Georgia. It's gonna be a challenge to compete with all the big American riders, but I'm looking forward to it. It' s gonna be a great opportunity for the team to show our good legs and hopefully we will win a stage. That would be great!
Leon van Bon
April 11th, 2008 - Jai Cawford
I have just returned home to China from a little bit of bicycle practicing in the wild jungles of East Java. Its only ni hao China for two days though, before I head off to the United States of America.
The Tour of Georgia p/b AT&T is next on the cards for the new super squadra GE - Marco Polo presented by Trek and by golly gosh its a big one indeed. I'm pumped for it, everyone at Marco Polo is and so they should be. Its a great opportunity to show what we're about and what a team like ours is made of.
I was second place on GC in Tour of East Java last year to a German, so I was looking to finish one place higher this year with my new team. My performances in the first two races of the year had been mediocre, my health had failed my legs and I knew it was time for both to work in harmony. Armed with good health and strong legs, my condition was the best it has been all year and continues to build towards Georgia.
In the end I managed a 3rd place on GC, not at all what I was after but I tried to win the race against an Iranian team who boasted three climbers whom many regard as very good (they did beat quite a number of world-top climbers on several occasions; comment Gudo K), personally I have no time for reputations. They used to be my team mates, and in fact I produced better results than every one of them singled out in my first full road racing season last year, but with the combined strength of three and only me to cover attacks for 20km of climbing, the task was beyond me that day. I stress that it was beyond me only on that day because I will meet the three stooges again and I wont be so kind next time…
It was a positive race for us, I saw especially Loh do some really good work. I have a lot of time for team mates like Loh, guys who give everything for the result of the team. I think he is getting some good condition and can try his luck in Georgia. The whopping great mountain at the end of stage 4 (mnt Bromo, a monster volcano) gave all the guys the chance to look at their climbing legs, which is important before the Brasstown Bald climb in America. In general I feel the whole team came out of the race with better form than they entered it with, even if they aren't aware of it. I implemented the best peloton positioning I have ever cared to carry out in a race and I can thank team mate Leon Van Bon and his words of advice in Giro del Capo (a race we did in South Africa in March) for that. If I may say so myself, if I can push myself to be in the front that much during all races, I think I can look forward to really good performances in the future.
Its an exciting time for the riders, motivation should be through the roof to grasp the opportunities put before us. I'm sure its an exciting time for the people who work so hard behind the Marco Polo outfit. I'm only new at the team, but I can appreciate the passion guys like Gudo and Remko Kramer and all the great staff surrounding them have for their team, and I know they must be very proud to be starting races like Tour of Georgia p/b AT&T and working with incredible sponsors like GE and Trek. I know I'm proud to be part of a small team that's aiming high and I will lay down everything I have in Georgia. Looking forward to Brasstown Bald!!
See you all soon in Georgia!
Jai
April 10th, 2008 - Fuyu Li
Last year I rode for the Discovery Channel Pro Tour team and I was able to qualify my country for the Olympic road race, by catching 7 Pro Tour points. Now I am preparing for the road race in Beijing, by doing an international program of races with the Marco Polo Team. I need high level races to be able to do well in the Olympics, I hope that I will be selected for this race. Because of this, I am very happy I can race the Tour de Georgia p/b AT&T, it is a crucial step in my program.
This year I started with Tour of Malaysia, I did win the first stage there and had the yellow jersey for four days. Then we went on to Tour de Langkawi, one of the biggest races in Asia, I tried many times to be in the breaks, but just missed the right ones all the time, still I felt good. Then we went to Giro del Capo in South Africa, I did have a few good days there, but nothing special. A good race for preparing though, with hard courses and a strong field. It felt good to be on one team with legendary mountainbiker Bart Brentjens (he won a gold medal in the Atlanta Olympic Games!) and Leon van Bon (an Olympic silver medal winner in Barcelona)!!
Tour of East Java was just last week and I did get a 4th and 5th place in stages and tried to help Jai Crawford in the mountain, as long as I could. I feel stronger now and hope for a good result this week in the Asian Championships in Japan.
After this, I will be flying to the USA immediately for the Tour de Georgia p/b AT&T. I hope to do well and will be racing aggressively to get in breaks and show to GE this team is a good team to be a partner of! The mountain stages will be good to prepare for the hard course in Beijing!
After Georgia I will have a few weeks to train again, then I return to Japan for the Tour of Japan. In June I will be racing in Europe and in July the Tour of Qinghai Lake, a high altitude race in China will be my last step before the Olympics.
The team and also sponsor Trek have tried everything to prepare us well, the bikes will be great and also the other gear is looking good! I am looking forward to it!!
Thanks to Tour de Georgia organizers for inviting us and to GE for supporting us!!
April 7th, 2008
After Le Tour De Langkawi, I took a small break to recharge my batteries and came back later on racing, representing my Malaysia National team at Tour de Taiwan. Unluckily, I got sick on the last 2 stages. Still, it was a good first step building up for my Tour De Georgia.
I continued with 2 weeks of good training after Tour de Taiwan, to prepare for Tour de East Java. It's gonna be a hard race as Indonesian race was very challenging with the route condition, weather and health being the major obstacles.
Stage 1, everyone from the team ride aggressively from the start, before Jai went on to form a 11 man breakaway group and finishing on 9th place. He gained 1 min lead on the other GC contenders.
Stage 2, I got a shocked scare, as I punctured at only 3km after the start, when the peloton just was on hot attacking mode. I then needed to ride almost 10km alone before getting back to the field. At the finish, there were 3 guys slipped away 10 second from the peloton and FuYu managed to sprint a 5th placing on this stage.
Stage 3 was a challenging course, 30 laps of 3km course with only 1.5km of climbing and 1.5km of fast descent. The Iranians were attacking from the gun and our team had to take turns to chase down the breaks. After I couldn't react to any more attack, I surrendered and got dropped before being over lapped twice by the small front group which only contain 25 rider as others rider went down as hard after being over lap and lapped again . 2 riders rode away from the front group to win the stage before Jai managed to sprint to a 4th place finish.
Stage 4, I was in a early breakaway group of 10 riders and got a 4min lead when we start to climb a 2000m volcano Mount Bromo. I was able to ride in front with 3 others breakaway companions before getting caught by Jai's group with good climbers at 18km before the finish. Jai's group ride past me just like angel dancing on the clouds as they climb up the mountains so easily. The last part of the climb was horrible, 20 kms of hairpins and ladder steps making the course suits for the Iranian riders as they battle up this climb 3 Iranians VS 1 Jai Crawford from TREK-Marco Polo. What can Jai do better as he finish 4th on this stage and secured a 3rd place GC standing. Matching up Hossein Haskari on the exact same time, as Jai finish 2 stages in better placing than Hossein.
Stage 5, a 50km criterium not much we can do, but to make sure Jai finish the stage not losing any time to Hossein and try out if FuYu can go for the final sprint. But at last, the finish was too dangerous, we couldn't put FuYu into the final sprint. Still Jai secured a 3rd place GC and everyone cooperated well for this stage race.
After all this race , I am now ready for Tour De Georgia . I hope I can contribute more for the team during this race, not to let down the team, as so far this team treated me as good as their own kids.
Last but not least, I would like to thanks all the team members, staff, managers. And most importantly , to all the sponsors like TREK, Wieler Magazine, Eurosport, Nutrifeed, and the great materials suppliers.
It could not be better as we are now if without the support of all staff and sponsors. Once again, thank you AND a GREAT WELCOME TO GENERAL ELECTRIC!!
Together let's make it great.
Greetings, Loh
April 6th, 2008
I have started racing since last year December in Tour of South China Sea with the Trek - Marco Polo team, mainly in one intention, to build up for Tour De Langkawi 2008. This has been the biggest goal of my early season, to be racing well in my home country race in February. Besides this, Jelajah Malaysia was a race where I can see how my preparation progresses towards Tour de Langkawi.
In Jelajah Malaysia, FuYu and Sergey were our clear leaders for GC and stage win, no doubt. FuYu won the 1st stage and hold on the leader jersey for 4 days as I had to work with my teammates riding to keep the jersey in our leader shoulder. Besides, we also try to work for Sergey, make sure there is always a bunch sprint finish for him to battle it out for a stage win. Sergey ended up getting 2nd and 3rd place before crashing out badly on stage 4, hurting his knee. Unexpected, certainly after so much hard work, I was climbing up to a Malaysian Local 3rd place GC rider on stage 6 on Genting, that was a surprise gift for me.
Before starting LTDL 2008, Team TREK- Marco Polo held a training camp in Malaysia here, which was a great camp for all riders to get around and train together. It made us know each other better, so when it comes to racing, we can work out perfectly together.
LTDL was huge for me, being a Malaysian. TREK and others team goods sponsor was tremendous. All new product included the new team bike was prepared for the team prior to the start of this biggest Asia stage race. Everyone was talking that TREK-Marco Polo team got the best bike in the peloton here in the race. Xin YangDong did a great job with finishing 3rd place on stage 3 after surviving on a breakaway group. Sergey did a good sprint, finishing 7th place on stage 4. Me, racing desperately to get into a breakaway group, at last, it worked on stage 6, it was a long break with 16 riders, but the finishing was too hot for me as I only managed to finish 16th place on that stage. FuYu and Jai try on to show their class on stage 8, climbing up Fraser's Hill. FuYu went for a very brave solo attack early on the stage , and Jai launch an attack on the foot of the climb to finish 16th place at the end of the day.
When I thought my 'season' almost ended here, the team announced I will be riding in Tour De Georgia with support of GE. I was really surprised and excited being selected for this big race. I am always keen to race in different countries, and this great chance pop up suddenly in front of my eyes and I now still can't believe my luck.
More to follow in my next post!
Greetings, Loh
April 6th, 2008 - Team Prepares Well in Java
In preparation of the Tour de Georgia p/b AT&T, the team took part in the Tour de East Java. With 4 criteriums and one savage mountain climb, it was clear that the Iranians would be the main competition. Mizbani, Ahad and Askari dominate the Asian races when it comes to climbing for years in a row, now and have shown often to be world class climbers. Jai wanted to give it a go, but was left alone with the 3 Iranians on the 30 km long, 2000mtrs high climb. He chased Mizbani for 8 kms and then was attacked by the other 2 of course.
Jai did manage a 3rd GC and two times 4th in stage 3 and 4. The rest of the team did have a good preparation for Georgia, supporting Jai. Fuyu did a few sprints and had some good stage results, a 5th in stage 2 was his best.
Young Japanese rider Yu Takenouchi made a good debut and will be back in the Japanese races in May.
Fuyu Li will race the Asian Championships next week and the rest of the team travels to the US already, to do some local preparation races in Georgia and PR activities with GE.
April 2nd, 2008
GE Marco Polo presented by Trek kicked off its activities leading up to the Tour de Georgia presented by AT&T with a lunch hosted by GE China President Jack Wen and followed by attendance at a reception and dinner inaugurating the new Beijing- Georgia Economic Development and Tourism Office.
Jack graciously introduced the team and made several kind remarks, including an overview of GE's leadership in the area of clean energy and resource management...something Trek Bicycle Corporation also finds close to their heart.
The reception in the evening was a new experience for riders YuTong and XingYanDong, who turned out in the best suits to meet the governor...and 300 of his closest friends. It was a wonderful evening and a great way to kick off the team's relationship with GE and the State of Georgia. More to come...